It's always nice to be home for the holidays, but why not mix it up this year and celebrate these merry months in a different location? Every town across the U.S. has its own way of celebrating the holidays, so grab your friends or family and check out one of these adorable American towns that host one hell of a holiday party.
Leavenworth, Washington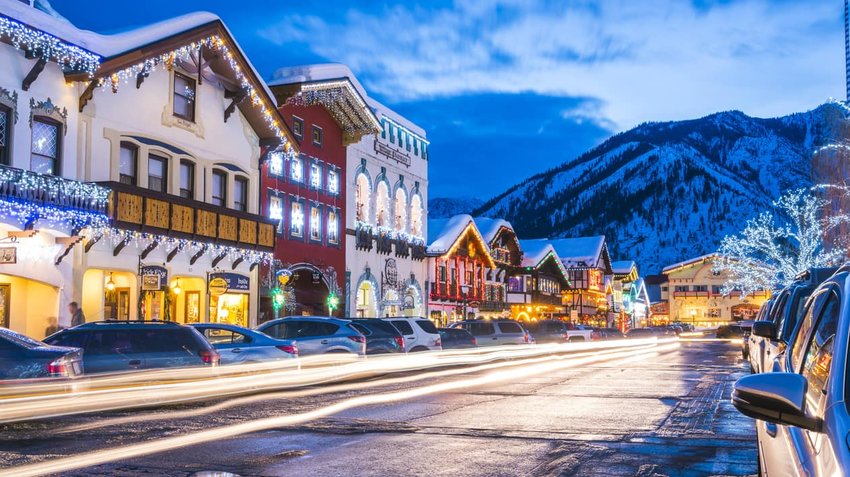 Credit: Joecho-16/iStock
Love the idea of the world-famous Christmas Markets in Germany, but aren't able to get to Europe over the holidays? No problem. Head to Leavenworth, a tiny town that comes alive with holiday cheer during the Christmas Lighting Festival. On the weekends leading up to Christmas (December 1-2, 7-9, 14-16), the Bavarian-inspired Christmas Village twinkles with half a million lights, Christmas music fills the air, Santa makes an appearance, and bands and solo artists perform live music. You'll also find the traditional roasted chestnuts, mulled wine, and other eats and treats. Plus, there's plenty of winter activities happening all season long in and around town like sleigh rides, snowshoeing, tubing, skiing, and snowboarding.
St. Augustine, Florida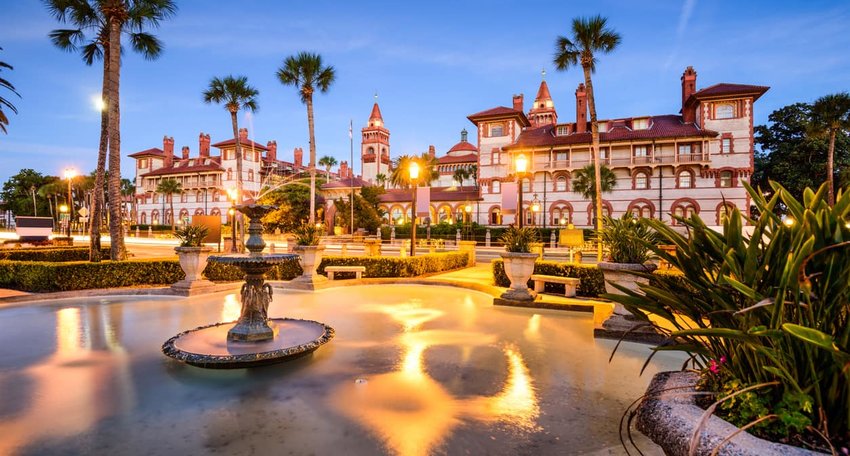 Credit: SeanPavonePhoto/iStock
If you're someone who loves the holiday season but could do without the snow, you may think about heading south to St. Augustine. On a normal day, the centuries-old Floridian town attracts tourists with historically significant sites like the Fountain of Youth, the Spanish Quarter, and Castillo de San Marcos. And then there are the beaches. However, around the holidays, St. Augustine becomes even more attractive with its two-month-long Night of Lights event. St. Augustine's decked-out historic district glows with 3 million lights, the Old Town Trolley offers special seasonal tours of the area, and horse-drawn-carriages trot through the streets. Businesses stay open later, allowing visitors to leisurely dine and shop in the festive atmosphere. Other popular activities include craft beer brewery hopping, wine tasting carriage tours, and boat tours of the lights.
Jackson Hole, Wyoming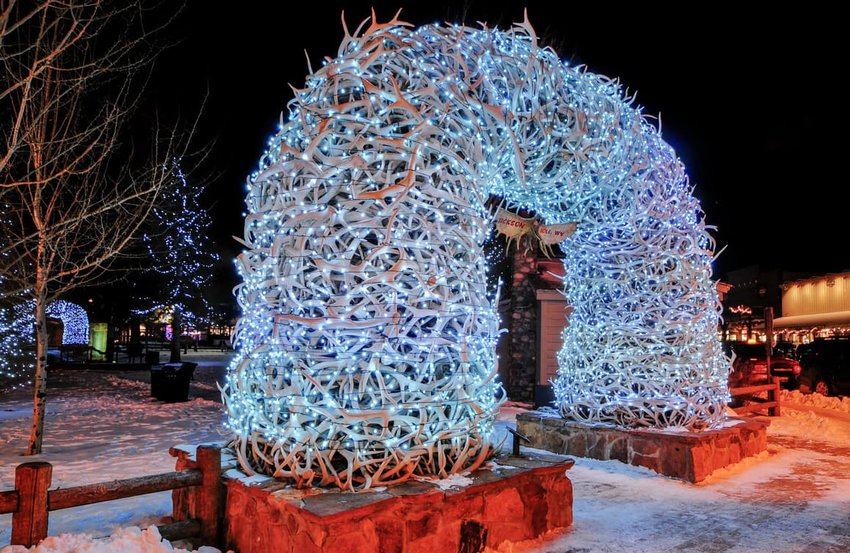 Credit: demerzel21/iStock
Surrounded by three ski resorts, Jackson Hole is an enticing place for skiers and snowboarders to spend the holidays. Even if these winter sports aren't your thing, there's still a jovial magic in the air that makes this one of America's most charming holiday towns. The town square's iconic elk antlers arch wrapped in lights sets the scene. If you want to get up close and personal with live elk, there's a sleigh ride tour through the National Elk Refuge with your name on it. Santa appears every night in the town square in the two weeks leading up to Christmas and even makes a scheduled repelling debut out of the town's sky tram. An annual comedy Christmas show performs every night at Jackson Hole Playhouse, fireworks and a torchlit parade light up New Year's Eve, and nightly events like ornament making and tree decorating, ice skating, and movie night (hosted at Jackson Hole Mountain Resort) provide endless family entertainment.
Breckenridge, Colorado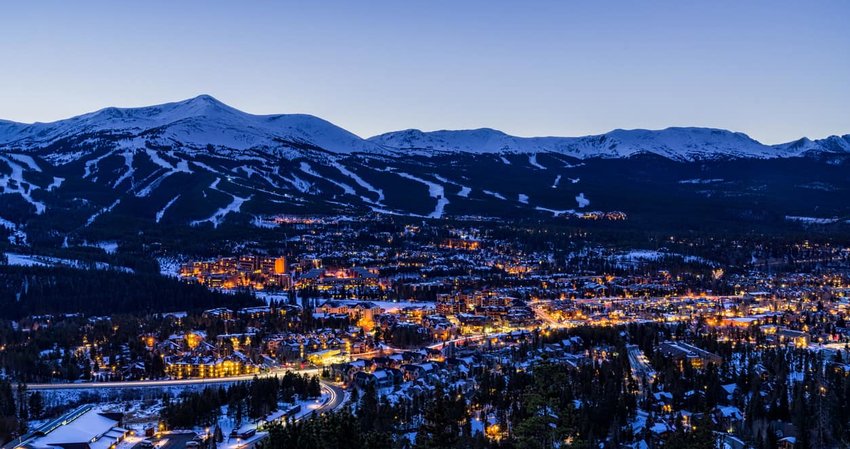 Credit: Adventure_Photo/iStock
The population of 4,500 residents swells considerably during the winter holiday season, but Breckenridge easily retains its quaint, cozy feel. The 5.3-square mile town framed by snow-covered peaks and dark evergreens packs an art district, a recreation center, music venues, and the ever-popular Breckenridge Ski Resort. Once the holidays hit, this town turns into a life-sized snow globe with the town lighting festival, a frenzied Santa Clause race down Main Street, a four-day international ski and snowboard competition (Dew Tour), and the Handmade Holiday Market. Think New Year's Eve in a small town is boring? Think again. The evening starts with a torch-lit parade down the mountain and a fireworks display. Then the celebration continues at any one of the towns 80-plus bars or restaurants. Other winter activities like dog sledding, ice skating, snowshoeing, sleigh rides, and hot tubbing rage all season long.
Branson, Missouri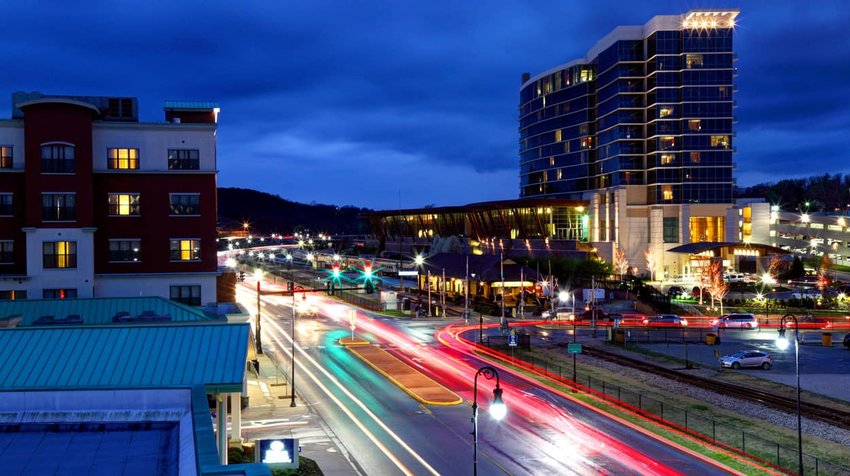 Credit: DenisTangneyJr/iStock
The residents of this Ozark town in southwest Missouri know how to conjure their holiday spirit. The festivities kick off at the beginning on November and don't stop until after the New Year. Known as the Live Music Show Capital of the World, Branson holds nothing back when it comes to musical performances during the holidays. From musical comedies to an 8-person family band known as The Johnson Strings, to a rendition of Elvis Presley's original Christmas performances, there is no stone left unturned when it comes to live entertainment. A stroll through the Old Time Christmas festival — glimmering with 6.5 million lights, bedecked with 1,000 decorated Christmas trees, and interspersed with holiday food stalls and live shows - immediately arouses holiday cheer. Rated as one of the world's top holiday event, the festive affair celebrates every day of December — including New Year's Eve.